Sal Ferro, owner and CEO of Alure Home Improvements jumped onto the Ask A CEO podcast to share his journey towards leading a corporation and experience as a CEO. Check out all other episodes of Ask A CEO here.
Connect with Sal Ferro and Alure Home Improvements here:
Key Takeaways
The journey 
Sal Ferro has been a prominent name in the business community for 35 long years. Apart from being one of the leading CEOs in the business hub, Long Island, he is also an entrepreneur, a philanthropist, a banker, and a real estate investor. He, along with his team members, built and designed eight different homes on the reality show, Extreme Makeover: Home Edition. Sal has also been one of the top innovators and influences in the construction business, attempting and succeeding to change the way the construction sector is looked at. 
How the pandemic has affected the construction sector
Sal talks about this business, like others, is entirely people-oriented. Due to the upheaval caused by COVID, the government gave them an executive order to shut them down for the time. Still, specific clauses in that order allowed them some freedom regarding emergency and repair work. First and foremost, the safety and well being of the employees, the crew, and the trade contractors was prioritized.  Thus, work was withheld strategically so that only those processes are continued, which can be done by an individual. 
Adapting the virtual selling platform
Sal mentions how it was crucial to quickly take a step in the right direction to present a united front in a way to say that he and his company recognized the magnitude of the situation and thus made changes accordingly. For that, they created a virtual selling platform, an online showroom for display and descriptions, contact list measuring and estimated, and mostly, a chance for the customers to do business with Sal's firm remotely and safely. He also emphasizes on how these changes can be made permanent because, in one way, they are new innovative ideas on how to deal with business and clientele. This is a part of the "new normal" because the steps they had to take as alternatives, for now, would certainly, in the long run, be beneficial for the company, help it evolve, and navigate issues in the future. Despite the temporarily closing down, Sal is hopeful that being in construction would give him an upper hand in just being a deferred business, and they can pick up where they left off, not a wholly dismantled one. 
Keeping productivity levels up
Because of the economic recession, the pandemic bought and the need for a smaller staff because of remote working, furloughs, and layoffs made keeping the crew together a bit difficult. Having a close-knit culture and a strong team made laying them off tricky, but those who stayed back communicated thoroughly through virtual communication platforms. In Sal's opinion, communication is the best way to increase morale, appreciate people, give them reviews, and share tips on making potential projects better. Coming up with plans and sticking to them has also become trickier because of the unprecedented times, but the only important factor is to stay in touch with your crew and your clients and stay updated. 
Future of reopening
According to Sal, phase 1 of reopening is crucial in determining the follow-ups. Some businesses, including Alure Home Improvements, are selected as participants in the first phase of opening. Sal mentions how it's vital that everyone included plays by the rules because any misstep or carelessness can result in the opening progress being slowed down again, and sticking to the government's regulations will cause phase 2 to come quicker and momentum for the businesses' reopening. Sal is also in the complete support of "contact tracing training," which are workshops held to train both employers and employees about social distancing and SOPs. This will also make sure that when corporations do reopen, the teams are not too detached from where they left off and then will have a tangible goal in sight to shoot for. 
Check out Ask A CEO on:
Quote: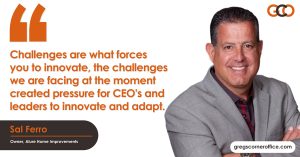 About Sal Ferro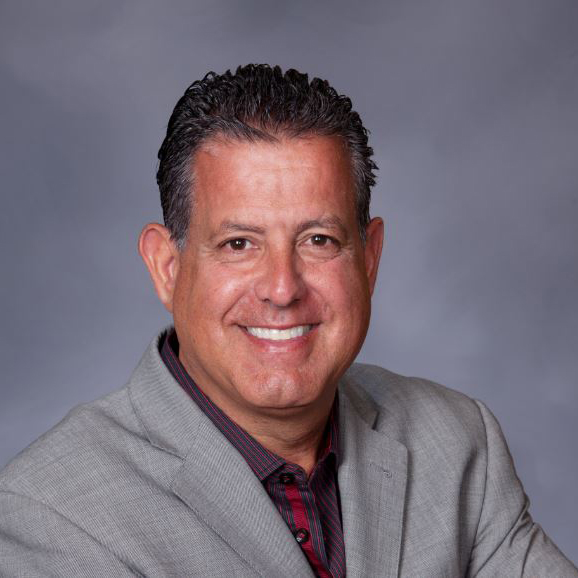 Salvatore Ferro, President & CEO of Alure Home Improvements, started his career with the company in 1989 as a production manager. After serving in production, sales, and general management roles, Ferro took on the roles of President & CEO in 2002. Alure has been in business since 1946 and specializes in full service remodeling and design build. With Ferro's leadership and remarkable people skills, Alure grew from a small painting contractor to one of the most successful remodeling companies in the country. Ferro believes the key to a successful company is its people, and he has worked diligently to promote a team attitude that focuses on an inclusive culture, where employees are encouraged to share input, as well as attend personal development training such as Tony Robbins and Dale Carnegie Seminars. Ferro graduated from Lindenhurst Senior High School in 1981 and then attended SUNY Farmingdale where he graduated in 1984. He spent some time in sales and financial planning before applying his passion for construction in his current career, working at a few different home improvement companies before joining Alure. He also holds (CR) and (CKD) industry certifications.

Industry professionals often look to Ferro for advice on ways to improve and develop products in the remodeling industry, and also for how to manage a company and cultivate the right employees to reach the standard of service that Alure Home Improvements has attained.

Ferro has been featured in Newsday, LIBN, Remodeling Magazine, Professional Remodeler and Replacement Contractor; spoken at various industry events including the National Association of Home Builders and the Replacement Contractors Executive Conference; and hosted a number of renovation episodes on the D-I-Y channel as well as Bar Rescue and George to the Rescue. Most notably, Ferro and Alure Home Improvements' remarkable reputation enabled them to participate in ABC's, Extreme Makeover: Home Edition where they completed eight projects for the show.