Alex Theuma, Founder and CEO of SaaStock, jumped onto the Ask A CEO podcast to share his journey and experience in the creation and evolution of SaaStock. Check out all other episodes of Ask A CEO here.
Key Takeaways
Alex's journey towards entrepreneurship
Alex initially worked in sales, selling software to customers. During this time, he had ideas about different business ventures but didn't go ahead with them. It was a period filled with regrets because he would see that those ideas he had not pursued were implemented by other people successfully after a while. After 11 years of working in sales, he felt he wanted to take the chance and leap into his entrepreneurial ideas. He didn't have a fixed idea in mind, but he knew he wanted to start somewhere. That was where the idea of creating a community for SaaS users came from.
The creation and evolution of SaaStock
While still working at his sales job, Alex initially started a blog about SaaS, which was the type of product he was selling. He realized it was difficult for him to write, and his knowledge wasn't at an expert's level. Instead of giving up on his venture, he began to touch with various experts and influencers in the SaaS technology arena. Many of them were happy to help out, and soon Alex became the editor of a blog called SaaScribe. In 3 months, the blog went from zero to 30,000 views a month. There was a dedicated audience who found the blog both engaging and helpful.
Deciding to expand, Alex also started a podcast about B2B SaaS called The SaaS Revolution Show. He would invite CEOs, SaaS experts, and founders of startups for the podcast. With a growing audience base and lots of interest, Alex started a Slack channel to connect and began holding small meetups. He began to see a demand for large conferences around this time, but he had no background in event management. He did several months of customer development at his workplace before finally leaving his job and going all-in for his dream. One year later, in 2016, he developed the first conference at SaaStock in Dublin, Ireland.
Challenges faced due to COVID-19
COVID-19 caused huge challenges to the event industry, of which SaaStock is a part. Before the pandemic struck, they had been planning four global conferences and the entire focus was on in-person conferences. Any other ideas were placed on the back burner. When COVID-19 hit, they had to cancel all their upcoming conferences and were left with no revenue streams. This was a very difficult time for Alex, but he tried to turn it into an opportunity instead. Taking it as a time to reinvent, the company shifted to hosting online conferences. It was a challenging phase as they pivoted their energy towards developing and marketing a completely different conference type. Still, they were able to run the first event by June.
Who is their target audience, and how do they reach out to them?
The primary attendees of these conferences are founders of SaaS companies and startups, the C-level of SaaS companies, and investors interested in SaaS startups. The audience was built up from the blog and podcast's engagement and content, and a network of people interested in SaaS was created. Alex makes use of an email list to keep people informed about upcoming events.
Word of mouth also helps to reach out to prospective viewers. People who attend the events will discuss them on the SaaS-related online communities and Facebook groups. As word of mouth cannot be measured, Alex's main time and efforts go towards email marketing.
What does the future hold for SaaStock?
Thanks to the sudden changes caused by  , this year is like a reinvention for SaaStock. Alex has laid out three phases of initiatives he wants to take in the coming year. The first phase is focusing on hosting more online events and developing them further. The next step is launching a community platform currently being used by 200 founding members in its beta version. This platform, called SaaStock Engage, is for enabling direct access to the content that would previously be shared in the conferences. It also aims to bring the audience together in one place for networking, learning, and forming specialized groups where regular weekly content is provided. Phase 3 for the company, which is still under development, builds their own SaaS platform for investors and startups.
A marketplace to connect investors and startups
One of the main benefits of the SaaStock conferences was the connections it provided. It was a marketplace where investors interested in SaaS could meet with SaaS startup founders, discuss their ideas, and make deals. While conferences have been suspended due to COVID-19, Alex thinks the same idea of a marketplace can be replicated online. The plan is to make a site where a person with a startup can fill out a profile about their idea and company, and how much money they are looking to raise. Investors can then visit their profiles and connect with them and see if they can engage.
Will things go back to the way they used to be before COVID-19?
At some point, Alex believes they will go back to in-person conferences. However, in the future, they will be hybrid, offering both in-person conferences and online conferences and content available on their online platforms. This would be the best of both worlds, as online conferences have the advantage of being more sustainable and accessible. Still, the energy and camaraderie built during in-person meetups cannot be replaced. Alex plans to go back to holding in-person conferences around October 2021.
How does one become a SaaS entrepreneur?
The modern-day SaaS entrepreneur can be anyone. Alex even considers himself because while he started running a service provision business, some issues and processes need to come online and are made better by using the software as a service. Whether a person is technical or non-technical like Alex himself, if they have a good idea and want to turn it into a product, they can build an MVP and move it forward by applying SaaS. As Alex says, "Identify a problem and think of how to SaaSify it, then take it from there."
What keeps Alex excited about his work?
While it can be challenging, running his own business is still something that Alex enjoys. This year has been very challenging because of the pandemic, but Alex sees it as a rebirth. After five years of working with a mature product, he is now going back to creating and coming up with ideas, which he really enjoys.
Best advice for CEOs 
Get a good night's sleep. While it seems to be an overly simple message, being well-rested is crucial at the CEO level. Being mentally and physically rested gives one the ability to deal with day-to-day challenges and increases creativity. Alex recommends getting rest even more during stressful times like the current pandemic.
Quote: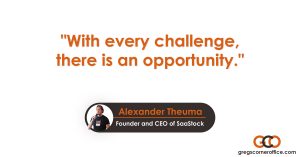 About Alex Theuma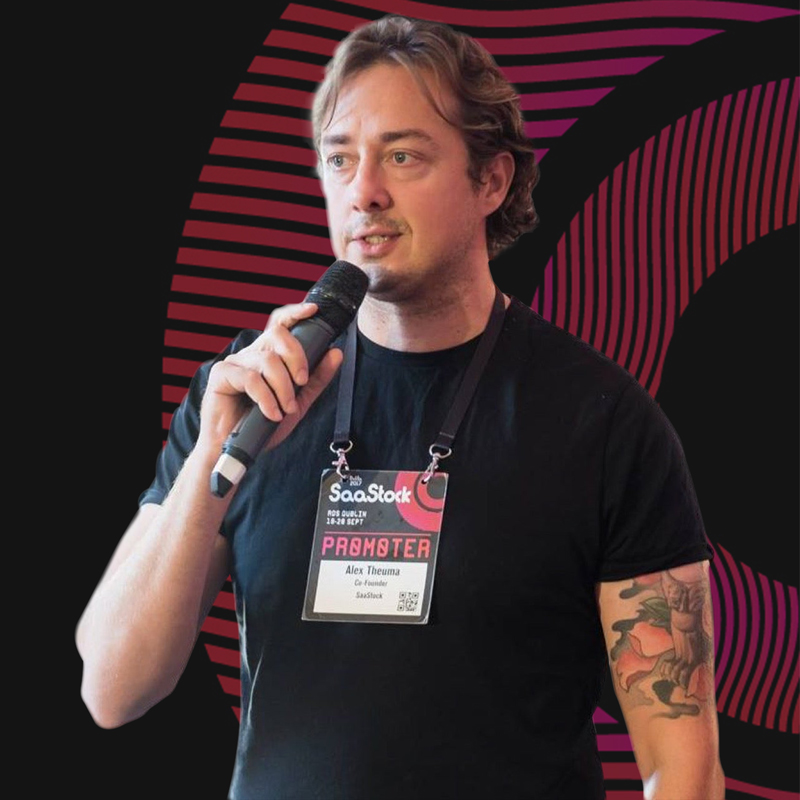 Alex Theuma, Founder & CEO of SaaStock a conference to help SaaS companies get traction, grow and scale, launched the conference in 2016, building on the popularity of his blog and podcast for SaaS founders and initial SaaS meetups in Dublin, London, and Berlin.
After 11 years of sales experience in IT, Telecoms & Cloud, I started a blog on SaaS called SaaScribe. This soon caught on and I built a powerful network across the SaaS founder and investor community. The blog soon led to the creation of the first ever podcast on B2B SaaS, called The SaaS Revolution show, and that led to the first exclusively SaaS themed meetups in London, Dublin and Berlin.