Patty Sipes, CEO of Incyte Diagnostics, jumped onto the Ask A CEO Podcast to share his winning strategy of Incyte during the pandemic. Check out all other episodes of Ask A CEO here.
Key Takeaways
Patty's Journey 
Patty is originally from the east coast, from a small town in New York by the name of Corning. Her father was a Senior Executive at Corning Incorporated for People Development Human Resources for which he won the first accolade of the best people development award. He used to tell her stories about his work and dealing, which was exciting for her. In other words, like there are army children, she is an HR Child, honed from childhood to become a manager. From the age of 10 years, she would go through executive and high-level HR people's decisions, and she knew she had an affinity towards the realm. Her knowledge about people had already surpassed other averages in people's development through what she was learning attentively from her father. Her career began as a Sales Representative at Ciba – Corning Diagnostics. Still, her actual jump towards management was through Myriad Genetics, where she became a manager and had the opportunity to get hands-on experience. According to her, this was a pivotal piece in propelling her career.
About Incyte Diagnostics and its progress from its early days
Incyte has been in operations since 1957 with just a few pathologists located in the North-west and currently has up to 50 pathologists and 400 employees working under its umbrella. Incyte Diagnostics offers two services but plans to expand upon offering more services to its customers. The first service is a cancer diagnosis, and the second is informing people after tests if cancer has been eliminated. Recently, Incyte has opened a clinic laboratory where blood and urine tests are also conducted to check CBCs and annual blood work. 
Impact on Incyte of Covid-19
Initially, Incyte lost 75% of its business within ten days when the pandemic hit. They had to reduce taxable income to a very low amount. The year will start with quite a low amount of cash and with lots of savings lost. The loss was quite dramatic. However, Incyte was also one of the first companies to apply for a PPP Loan and HHF funding to make up for the finances. Detailed research was undertaken to decide which bank to use, so the loan and funding could be funnelled to the company as soon as possible. There was a glimmer of hope for Incyte as a huge stream of revenue showed itself from the clinical laboratories that the company had started. The testing for COVID-19 helped streamline things a lot due to which Incyte was able to balance out the initial loss. As of August, the company has reached the proper budget, and despite the horrific haphazard conditions at the beginning, the financial year brought prospects for the company. 
Transitioning during the Pandemic
Patty says that it certainly took a lot of work with endless nights to get the clinical laboratories established, which was in March. Many of her employees were already quite exhausted from a year of effort on the objective. After that, the pandemic hit, and there was no other choice but to ensure that the transition was successful. Almost every department worked endlessly. As mentioned before, the upper management was involved in most of the calculations, getting the funding to operate. Other departments worked tirelessly like IT, aligning computer interfaces and connections with instruments they had never experimented with before. Also, there were many manual entries required, so it became necessary to hire more staff. In July alone, Incyte hired 30 employees to get the processes completed and prepare laboratories for COVID. 
Patty's Contribution and change in the company as the CEO
Patty showcases a humble nature by saying that she was unsure how to answer this question before coming up yet knew it would be asked of her, so she consulted her staff regarding it. Most of her staff tells her that she added a human element to the company and the senior executive office. Her staff feels that she is much more approachable, and while this is a factor that employees wanted in the company before her, she is the one who made it happen. She believes it's a huge compliment from her staff. She feels that coming to a company that is already doing well and trying to add efficiency has benefited greatly. She is also focusing on areas that the company is not explicitly vigilant about and ensure monitoring of them to improve efficiency further.
She also points out that she looks at medical professionals and administrative staff in totally different ways. The pathologists are also the shareholders. Their standard operating procedure is that when they have a question, they require an answer and data to support it, so she is quite direct with them when it comes to communication. The lab staff mostly works in shifts, so she has to be aware of them having the right motivation and skills to ensure that they are extremely professional, so they are effective.
The culture at Incyte is quite family-like. People are mostly upbeat when talking to each other, and there is a positive attitude in the air. Recently her birthday was celebrated, and it was a warm celebration. While certainly loaded with projects, Incyte is quite a "Pressure Pot." Yet, Patty consistently ensures that objectives are met timely, and people also have the time to recuperate and rejuvenate through their personal lives. Her focus is to let her staff maintain a healthy work-life balance. 
Quote: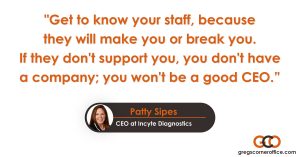 About Patty Sipes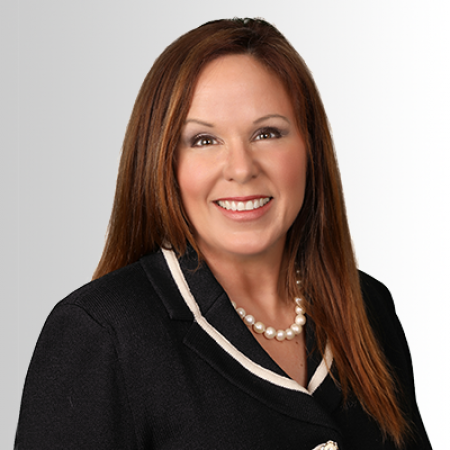 Patty Sipes is a veteran in the healthcare space. She has 28 years of experience; 13 of those years have been within senior leadership roles. Her depth of experience is significant and includes sales, marketing, managed care, M&A, asset management and executive level management. She ran a successful consulting business (Esoteric Lab Consultants) for several years. However, her true passion is leading companies and "making a difference".