Robert Quarte, The Managing Partner at AVZ and Thomas Lowerberg, Partner at Fuller Lowenberg & Co, jumped onto the Ask A CEO Podcast to share their journey towards leading a corporation and experience as CEOs. Check out all other episodes of Ask A CEO here.
Connect with Robert Quarte, AVZ & Thomas Lowerberg, Fuller Lowenberg & Co here here:
Key Takeaways


Oceans of experience and startling journey… 
Robert Quarte has 38-years of experience in accounting, finance, and tax auditing. He talks about how, in the initial stages of his journey, he wanted to go back to the private sector. He began to realize that being a managing partner at a firm introduced him to so many opportunities to collaborate with other professionals and clients in the business community. Since then, he has been a chairperson of the Hauppage Industrial Association, a professor at Stony Brook, and a Managing partner at AVZ for the past five years, keeping a perfect balance between client responsibilities and managing the firm. AVZ, which has been in business for 70 years, deals with niches, including contractors, manufacturers, distributors to not-for-profit organizations, and municipal areas. It also initiated a Wealth Management Division, which helps bring out the whole wealth side of the clientele, and then AVZ helps them plan the expenditures and savings by weighing the cost and benefit model.
Thomas Lowerberg talks about how he was in the private accounting and real estate development business for a short period. The exposure from that sector and working with different industries instilled in them the need for a business advising company, and then they created this firm. Fuller Lowerberg has been around for 29 years, and it deals with assisting small to medium and privately owned businesses.
The turmoil caused by the pandemic and how they adapted
Quarte mentions how, before the pandemic, it was a hectic time for the firm. But nearing February, work and cash hold were getting delayed. However, they adapted quickly, and the equity partners stopped taking salaries to prevent the cash from being too tight. However, by mid-March, they resorted to working remotely and also cut a few unnecessary expenses. They had to furlough a few people, which might be re-employed at the end of the pandemic. Generally, they geared up and made sure that the remote work was done efficiently through conference calls with clients and associates.
Thomas talks about how his business had upgraded the IT and Security sector beforehand, and he and his team members were, therefore, early adopters of technology. Because of dealing with confidential client information like tax and other financial details, they had already bought their security and privacy level up to the par. The tax department was working remotely in advance to the start of the pandemic. Fuller Lowenberg also had to realign the personnel and divided the day in 4 shifts where people could come to the office for a shorter time and in smaller groups. 
According to both, work undoubtedly halted for some time, and productivity levels decreased as the interaction between staff and clients decreased. Clients were not focusing on providing complete information. Still, with time they settled on the alternative remote working to increase engagement and increase work focus. 
Permanent changes in standard operating procedures (SOPs)
Thomas Lowenberg discusses how due to remote working being a possible alternative, some sectors of the corporation can resort to remote working as a plan B the next time something goes wrong. According to him, it can also minimize absenteeism and increase efficiency as sickness won't be an excuse for not showing up to the office and then missing on that day's work. 
Robert Quarte talks about the post-pandemic scenario, where they also plan on adopting the shift in culture too initially, which is dividing the team into portions and some working a few hours and some different so that they can open earlier while minimizing interaction. He also supports Thomas's stance towards remote working and emphasizes how managers can quickly review files etcetera from home. 
Their biggest obstacles
For Robert, dealing with smaller clients from privately managed businesses was tricky. They didn't know how to collect the correct information needed for business advice accurately, and they were continually coming up with new guidelines, new information, and questions was a challenge. Clients often had issues with lenders and lending institutions, which would usually create a new obstacle for Robert's firm, too, in guiding and preparing schedules that would document how the loan application is to be given. 
Thomas jokes about it being a 'frenzy' of sorts, with clients mistaking the loans for free money and then had interim rules and questions regarding the correct processes. He talked about the initial stages of the PPP (Payment Protection Program) and the idea of loans when SBA started accepting applications the next day. Because of the significant influx of clients, it crashed. The clients then turned to the accountants at Fuller Lowenberg, which put them in a new debacle because of unfortunate circumstances. 
Check out Ask A CEO on:
Quote: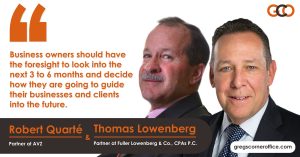 About Robert Quarte & Thomas Lowenberg