Jaci Clement, CEO and Executive Director of Fair Media Council, jumped onto the Ask a CEO Podcast to share her journey and views of media's status quo in the USA. Check out all other episodes of Ask a CEO here.
Connect with Jaci and Fair Media Council here:
Key Takeaways
About Jaci and Fair Media Council
Jaci's life has been revolved around fair media, communication, and journalism, and this is where her professional roots lie. Even before the Fair Media Council existed, she was into the communication industry. When asked about her company, she had a fascinating response. She believes that the Fair Media Council is an amalgamation of her best qualities. It is a perfect marriage of the two things she has done most throughout her life. She has spent a significant amount of time inside the newsroom being a reporter and an editor. However, she has also spent time managing the business side of a media outlet. 
While she does admit that having a mix of these two backgrounds is not very common, Fair Media Council manages to be an amalgamation of both backgrounds. Of course, as CEO, her responsibilities go beyond just journalism. She has t look at the analytical or the 'business' side of the operations too. Therefore, she says that when she feels that this is a very appropriate position for her to be in. When she wants to write, she can do the journalist part of her job. When she wants to do something more analytical, she can focus on her organization's more business-oriented side. 
Status quo of media in the USA and how it has changed
Today, the media is more divided than it has ever been before. There is so much hostility between media firms representing differing political opinions. Many people call 20-30 years ago the golden age of news media. Why did it get this way? Jaci believes that the most straightforward answer to this question is "technology." Every day, there is an innovation in the media field. What this has given people is variety. People can watch what they exactly where they want. An exciting example that Jaci provides here is of newspapers. Previously, you had to wait until the afternoon to get newspapers. Now, technology has evolved so much that newspapers can be provided at the start of the day. This has altered the appetite of the media in a way we have never seen before. People want more content than ever before, and they want it quick. Technology aided that. 
Another thing technology did proliferate voice throughout the world. Jaci believes that anyone can pose as a media outlet. While this is good because it allows for better debate and more up to date news, it also can harm the news industry. If there is a media company with propaganda, a company that does not have to help people get fair news as their primary goal, then it is a weakness. When outlets with propaganda get a loose leash, they cause hostilities between the news media. 
The responsibility of news media during COVID 19
Jaci believes that media accountability is essential to the American System. People need to be well informed so that they can properly understand why things are happening the way they are and what to do about things that directly affect them. What is interesting about this pandemic, as mentioned by Jaci, is the fact that the quality of the information people get is not just dependent on news media only. There is a third party involved that has a direct impact on how accurate the news is. 
That third party is the scientists. A news outlet can only be as reliable as their sources. Thus, there is a limit to the accountability you can do for the media in today's trying times. They are dependent on the news they receive from the scientists. An example Jaci quoted here was how social distancing was handled. It went from being 3 feet minimum to 6 feet minimum to 6-10 feet minimum distance. It is important to note here that reporting all three of these as soon as possible was the news media's responsibility. However, they cannot be blamed for putting out new information that contradicts previous information because they rely on a third party.
What they have to do then in a situation like this is to report as quickly as possible. Jaci also believes that having a variety of opinions is also extremely necessary in cases like these. Whatever may be happening, the public must remain informed of it.
Check out Ask a CEO on:
Quote: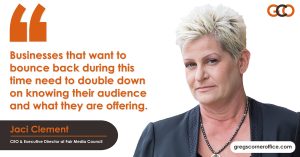 About Jaci Clement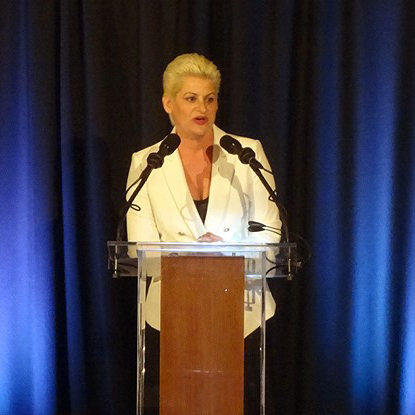 Jaci Clement earned her first byline in a daily newspaper when she was in the fourth grade. She's been working for and with media ever since. Today she runs the Fair Media Council, a 501c3 nonprofit organization that advocates for quality news and works to create a media savvy society in a media driven world. She drives a small car, owns a large dog and lives on the North Shore of Long Island. More about Clement may be found here: https://en.wikipedia.org/wiki/Jaci_Clement