Do you see yourself as a strategic or operational leader and why?
Answer: I see myself as both. I am very hands-on operationally. I run a tight ship, which has allowed our firm to grow and prosper. At the same time, I plan strategically and focus on the bigger picture, always looking to innovate, improve and move the needle on client services. We have launched various programs in response to our clients' expressed needs and input, such as our Elder Care Employee Benefit Program called TAWC: Tools and Advice for Working Caregivers. Elder care is the new child care and businesses are losing top talent as well as billions of dollars in lost productivity as working elder caregivers struggle to meet the demands of work while caring for aging loved ones. We heard so many stories from our clients who had to take a leave of absence, pass on a promotion or even quit their job to care for elderly family members that we knew we needed to address this problem. TAWC helps employers by reducing absenteeism, downtime and turnover and promotes job security for employees.
What would you tell an up and coming executive about the difficulties in running a successful company?
Answer: Young leaders need to understand that growing and leading a successful business takes 24/7 dedication and 150% effort all the time. There is no resting on your laurels. If you are standing still, you are actually moving backward. You have to constantly seek to raise the bar. This is especially true in the crowded Long Island marketplace, which is increasingly competitive.
How do you use your years of experience to influence other leaders and the world around you?
Answer: I lead by example, which impacts not just my firm but the leaders and businesses around me. I have created a culture at my firm that prioritizes corporate social responsibility, charitable giving and community outreach. That is the fabric of our firm and underscores all that we do. As a team, our attorneys and staff have raised money and awareness for Alzheimer's disease, MS and heart disease, served meals and stocked shelves at food pantries, brought food and clothing to the homeless and more. Ten years ago, we launched our own charitable program, Senior Dreams Come True, which grants wishes to low income seniors – from helping a senior meet basic needs to fulfilling a lifelong dream. Our actions encourage other local businesses to find creative ways to become engaged for the greater good. Long Island has seen a significant uptick in businesses of all sizes devoting time to charitable causes and community issues. This is win-win for all of us.
What is your core philosophy – in life or in business?
Answer: My core philosophy is the same for both life and business: whatever you undertake, be the best that you can be. I tell my kids that if I worked in an ice cream store, I'd be the best ice cream scooper in the shop. It's just what you do. Showing up is not enough. You have to give everything you've got to all that you do.
What one word describes you?
Answer: Tenacious. Demanding. Innovative. Compassionate. Ok – so it's four words….
About Jennifer Cona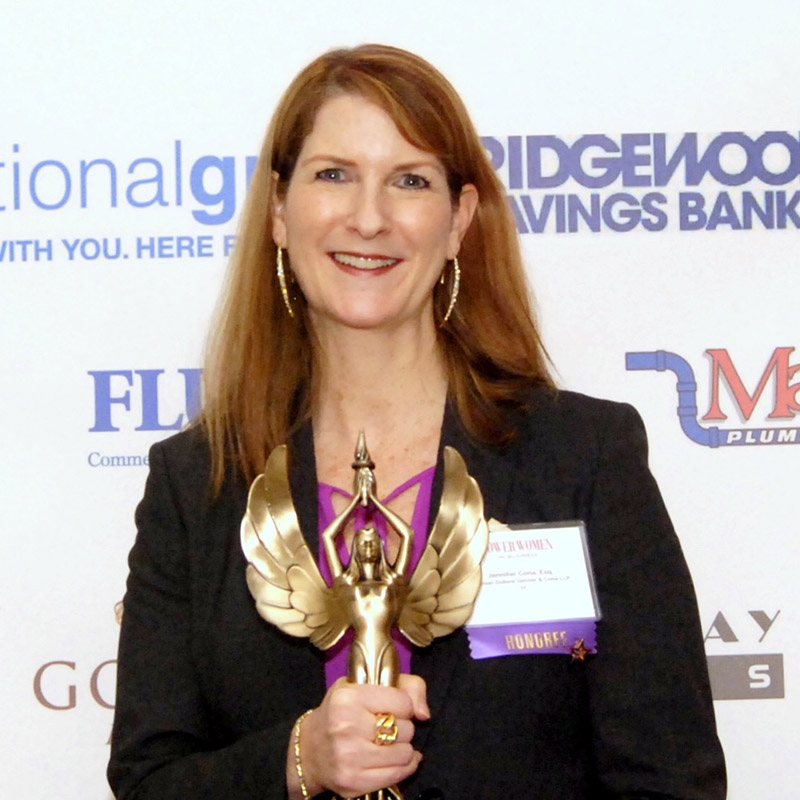 Jennifer B. Cona is the managing partner of Genser Dubow Genser & Cona LLP, a leading Elder Law and Estate Planning firm on Long Island. The firm provides a holistic approach to Elder Law, working together with both families and health care facilities to sustain quality care for older adults.

Ms. Cona provides hands-on management and leadership for the firm of 40. Ms. Cona is rated a Super Lawyer, a Top 10 Legal Eagle, was named in the inaugural class of the New York Law Journal's Top Women in Law as well as the inaugural class of Hofstra's Outstanding Women in Law, has received the Leadership in Law award, Smart CEO Brava Award, and twice the Top 50 Most Influential Women in Business award. She has been featured in The New York Times, The Wall Street Journal, The New York Law Journal, Long Island Business News, Newsday, USA Today, Kiplinger's and more. She has appeared as a guest on WNBC-TV, WABC-TV, CNN-fn, Fox 5 News, News 12 LI, and various radio programs.

Under Ms. Cona's direction, the firm has prioritized corporate social responsibility. GDGC founded its own non-profit, Senior Dreams Come True, which grants wishes for low-income seniors on Long Island. GDGC seeks to raise the profile of attorneys and law firms in general, leading by example with outreach and good deeds.