Donna Drake, CEO and Co-Founder of TV show Live It Up, joined the Ask a CEO Podcast to share her national and global journey as a CEO. Check out all other episodes of Ask a CEO here.
Key Takeaways
Donna's Journey 
Donna grew up in the Midwest, where she studied Graphic arts design and thought of becoming an artist. She found a job in an advertising company, designing commercial art. She further pursued her career by getting a degree in Business Communication. Donna, in her early days, would sing alongside a patriotic singing group called 'The futures of America.' She found songs from the 30s to 70s interesting and always thought of herself as an entertainer or performer. She blended her love for non-profit organizations and a flair for entertainment to create an excellent experience for herself. With her singing group, Donna performed songs for veterans, various camps for children with disabilities, president, and Disneyworld.
One of her first jobs in the entertainment industry was to select soundtracks and effects for radio, TV commercials, and shows. She also has experience as a computer graphic designer and worked at Diamond vision Quantel scoreboard for St. Louis Cardinals. She gained both back-office experience and the front, so she knew the technology behind using cameras and microphones.
What drives Donna and her experiences in entrepreneurship?
Donna never had the confidence to appear in front of the television. She thought she didn't look for it at that time as there was a venerable tradition of hiring only female blonde news anchors. But, that didn't stop Donna from creating her model. She successfully worked on a different aspect to boost her confidence, and for almost 20 years, Donna has been managing the Drake media network inspiring millions of other CEOs.
Despite being bullied during her childhood, she didn't feel demotivated; in fact, Donna kept her stance and knew from the beginning that she wanted to be somebody and have fame. She found inspiration to prove herself. It was when Donna interviewed Jay Leno; she instantly knew that she wanted to host shows. The interview was the turning point in her life because it gave her the confidence to appear in front of the television.
About Drake Media Technology and the biggest obstacles encountered
Being a CEO has its privileges, says Donna. She wanted Drake media network, not just a regular TV show, but she wanted to experiment with different things according to her liking. Whatever Donna wished to achieve in life, such as productions, corporate image videos, visuals, copy, voice-over for video commercials, behind-the-scenes, and scripting, she implemented in Drake media network. She did plenty of voice-over commercials and scripting for different programs and shows. She has been an overall marketing director for various companies. Donna believes that sometimes it is necessary to use printed material as collateral with a video to attract audiences.
Donna started her company in the year 2020. The starting point was difficult as she was only the marketing director then. She worked hard, from designing logos to formulating strategies to develop the company into a business.
Strategies to bring guests on the show and memorable interviews
Live it Up! is currently on 'invite-only.' Donna shares that sometimes people email them to know about the process of coming to the show. Before they changed their strategy, the company used credit cards or prepaid methods that initially helped them, but they streamlined calling guests onboard. Live it Up! also reach out to people and companies that are compassionate towards the community. She explained that their analytics are targeted, so they get great viewership. Donna says that her obligation towards the audience is to provide the services or information that give value to their life.
According to Donna, the best clients are those with the most agreeable personality. She thinks that a business's size is irrelevant if someone realizes the opportunity and symbiotic connection between humans. Interesting personalities that Donna interviewed include: Jay Leno, Tony Benedict, Howie Mandel, Mike Tyson, Gloria Gaynor, Michael Strahan, and some CEOs of different companies also make a list because she thinks they are the one racks to riches, 3rd generation CEOs managing the family business. Donna wants the non-profit organizations to get the most exposure that they deserve. Recently, she interviewed Rebecca Zamolo, who has over millions of followers.
National and global experience
Live it Up! has 99% viewers in the country, and her show is recognized in almost 25 countries globally. The Wall Street Journal also picked an article on SBTV, which is founded by Jack Perry. She says that 70 of their shows are on the platform, which boosted their viewers. Now it is known as VUIT. The OTT also offers benefits for many traditional TV advertisers who want better exposure to advertisements, live streaming, and pre-produced shows.
She shared that the people of Nova Scotia are exceedingly kind. She was honored to be part of the journey. Japan also invited members of the team to pre-promote the Olympics. We were invited as a global concierge for companies, and Donna feels proud in representing America. 
How COVID has changed overall production
Donna explained that even before COVID, they experimented with remote video production and tested all the equipment because one of her clients and close friend Mark Simon, couldn't fly from Florida. We were prepared, so we used that as a sample and outreached some potential clients to see their response. After getting a positive response, people bought segments in the show. That's how to Live it Up! expanded further.
Quote: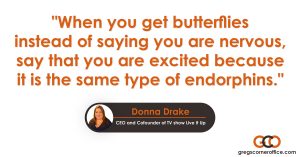 About Donna Drake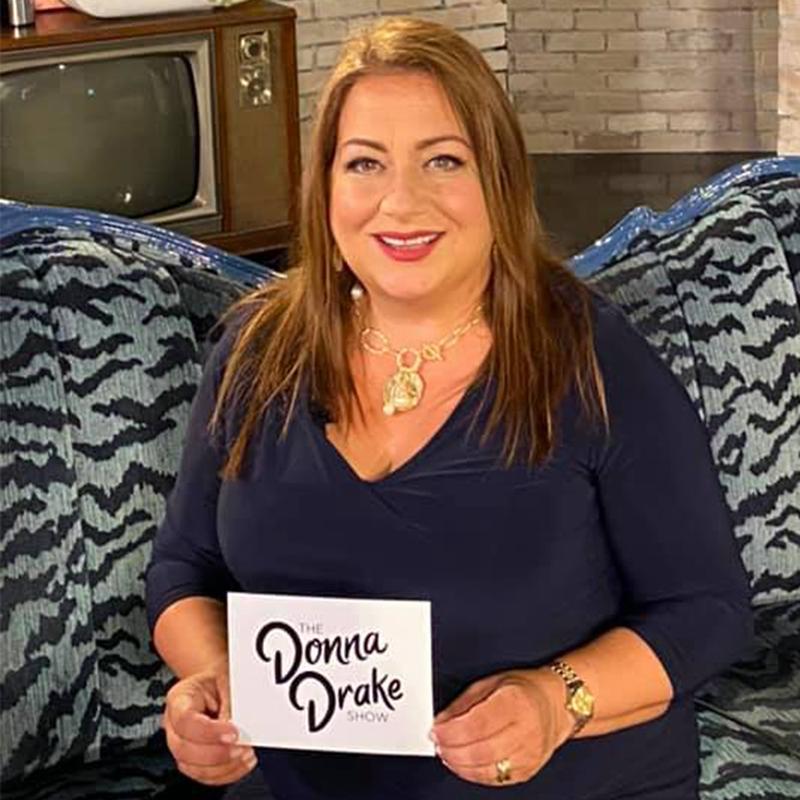 Nationally syndicated talk show host, awarded Global Ambassador by the United Nations and CEO of Drake Media Network celebrating twenty years in business our guest is Donna Drake.
A tireless fundraiser, Donna is regularly booked to keynote and Emcee events. A native of St. Louis, Drake spent her early career at Technisonic, selecting music for broadcast projects. Donna followed her passion for the Arts to New York to produce and host various TV and film projects, including her popular show "Indies Insider" – on the film industry – and the art-world podcast "After Party."