Jared S. Taylor, Founder and CEO of BlocHealth, jumped onto to Ask a CEO podcast to share insights and initiatives from within the healthcare industry. Check out all other episodes of Ask a CEO here.
Connect with Jared and BlocHealth here:
The path that led Jared to BlocHealth
Initially, Jared wanted to work in the investment industry. Even the internships he completed were related to investment banking, and after graduation, he got a job in his field of interest. 6 months later, he realized that this was not something he was meant to do. He clarified that he wanted to do analysis, but only for the companies, he was interested in. Although he only wanted to explore the companies of his interest, he thoroughly performed his responsibilities and kept working on analysing the companies that didn't ignite him very much. 
That was when Jared came across this twist in his life, which got him the opportunity to shift to healthcare staffing service as he started working as a Business Development Executive for Medicus Healthcare Solutions. He learned a lot about onboarding healthcare professionals during that period but then decided to leave, and that's when BlocHealth came into existence.
Innovations in the business
There were reasons like staffing space that led them to innovate the idea. Several healthcare professionals were taken to get them verified and licensed, which can take them to better serve the healthcare facility. Still, it took way too long, and eventually, professionals started to back off. They researched, which led them to switch to a credentialing technology company where healthcare professionals can store and verify their data.
The benefit of the platform to doctors
On BlocHealth, one can store all of his credentials, licenses, and certificates. It also informs about the expiration dates of licenses. Moreover, the credentials can be shared with any organization, whether affiliated or not. Through the platform, services like applying for new licenses can be availed through universal, common apps as credentials can be shared through it.
Vision and Mission
BlocHealth's vision is to build such a healthcare ecosystem and services, which makes the future of healthcare bright. They want to become a one-stop-shop for professionals in the healthcare sector, where all the administrative tasks can be performed, and information can be shared from one location. The data will also be saved once from all the sources, so a lot of time will be saved to spend on other stuff like focusing on experiences and spending time with family. Also, work is being done to form relationships with healthcare associations and talk to the professionals about how the above-listed tasks can be done in lesser time.
Slice of Healthcare Podcast
Slice of Healthcare Podcast was introduced shortly after the foundation of BlocHealth by Jared. He always wanted to discuss healthcare with medical professionals, startups, and entrepreneurs. However, he wanted to do it in a way through which he can share valuable information with everyone. Jared got very successful in this podcast and enjoyed everything simultaneously as he got to meet several different professionals. There are 50 episodes of "Slice of Healthcare Podcast," and a lot more are on the way. Conclusively, he said that their focus is to learn about innovative companies and individuals through this platform.
Advice for CEOs
Jared shared that the best advice he got was to always trust his gut no matter what. He emphasized that the first answer anybody thinks of is usually the correct one. One should just have enough trust in their instincts, for they always consider the pros and cons of a situation.The advice he gave listeners was to focus on a niche and increase the size of their vision. Have a big vision but always start small, says Jared.
Quote: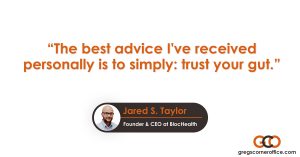 About Jared S. Taylor
Jared S. Taylor is the Founder & CEO of BlocHealth and the Founder & Host of the Slice of Healthcare Podcast. BlocHealth is building the ecosystem of healthcare services and solutions to power the future of healthcare, allowing healthcare professionals and organizations to focus on higher value treatment areas like patient experience, provider experience, outcomes and revenue.